American Psycho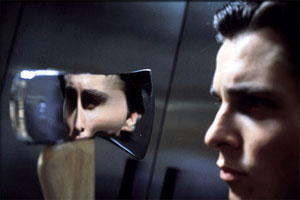 AMERICAN PSYCHO was perhaps one of my most satisfying professional experiences, because it was that rare film I was able to work on from conception through release. Indeed, several years before the film was shot I had written a press release for producer Ed Pressman announcing his acquisition of the rights to Bret Easton Ellis' novel. I recall feeling profoundly self-conscious while reading that novel on a crowded New York City subway car because the National Organization for Women had, ludicrously, condemned it.
I have so many great memories of that set. I'd never seen a woman direct a movie before, and there was no doubt in my mind that Mary Harron knew exactly what she was doing. The day she was to shoot a nightclub scene, I remember her vetting literally hundreds of extras for the accuracy of their 80s period costumes. I remember her bravely enduring the misogyny of a key member of her crew, presumably because his work was so brilliant (which it was). And I remember thrilling with her as we watched Christian Bale have a meltdown at a Park Avenue phone booth (remember those?) as he confessed to 'killing so many people."
The movie had press hurdles. At one point, AMERICAN PSYCHO had been taken away from Mary as Leonardo DiCaprio flirted with the role as an antidote to his teen-idol hangover from TITANIC, but Mary somehow managed to weather that storm and ended up directing the movie on her terms and with her star, Christian Bale.
To address this, I invited an editor at the New York Times to send a writer to visit the set in Toronto and suggested the visit happen while Mary was shooting that nightclub scene, figuring the atmosphere would highlight the film's authentic period detail. The paper assigned a terrific writer, Bruce Weber. Because Mary had a lot to say, I got her and Weber together on a day off, over a long lunch at Toronto's famous Bistro 990, which was surprisingly quiet when there's not a world-famous International Film Festival going on across the street. The story ran in the Sunday Arts & Leisure section shortly after wrap.
Another terrific writer, Premiere magazine's Holly Millea, visited the set on the night that Bale's character, Patrick Bateman, murders his rival Paul Allen (played with smarmy élan by Jared Leto) with an axe. By coincidence the scene, which called for lots and lots of blood, was shot on the night of the Academy Awards, and Leto, knowing full well that Millea was on set, had asked Mary in front of her if he might be excused early to catch a flight to New York so that he could attend an Oscar party thrown by legendary publicist Bobby Zarem, suggesting that Mary shoot the master of the murder itself and then use a stand-in for coverage. His point was that anyone could sit in the pool of blood, since the script didn't call for a shot of his character's mangled face.
Mary couldn't believe that Leto had actually suggested this and said 'no.' I was concerned that Millea had witnessed this exchange, and asked Mary if she wanted me to try to get the reporter to overlook it.
"Of course not," said Mary, who was herself once a journalist, and Holly ran every bloody detail.
AMERICAN PSYCHO is one of those films that has held up astonishingly well over the years. Premiere, sadly did not hold up: it folded just as I was trying to get them to cover the set of JUNO.